Middle Fork of the Vermilion River

In 1990, the U.S. Department of the Interior designated a seventeen-mile stretch of the Middle Fork of the Vermilion River as a "National Wild and Scenic River". It begins in the vicinity of Higginsville, north of Kennekuk County Park, and ends at Kickapoo State Park.
The designation was controversial because it essentially doomed any hopes of the long proposed Middle Fork Reservoir project. The stream is rated "class A" and supports the blue breasted darter, an Illinois endangered species. The Middle Fork offers excellent canoeing and fishing opportunities in the spring when the water is of sufficient depth.
Currently, only 8% of Illinois' rivers are publicly owned. By Illinois law, canoers who access rivers other than these, are essentially trespassing. The Middle Fork is a public stream bounded by Kennekuk County Park on the east and the Middle Fork Wildlife Area on the west. Kickapoo State Park manages property on both sides of the river to the south of Kennekuk and Middle Fork Wildlife Area.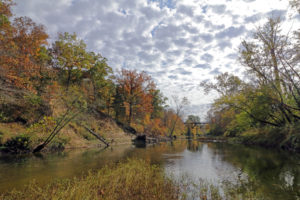 Canoe access is available at the Higginsville Bridge, Middle Fork Wildlife Area, Kennekuk Co. Park, and Kickapoo State Park.   The National Scenic River System is governed by the U.S. Department of Interior and has stringent rules regarding development on National Scenic Rivers.  It is believed that the canoe access and ramp recently constructed at Kennekuk County Park is the only ramp of its kind in the country.  Because of flooding, the ramp and access lane was constructed of concrete, but was dyed brown and had an exposed aggregate surface to blend in with the surrounding environment.  This is the only public access on the east side of the National Scenic River.  It also serves as an excellent path for handicapped persons to view the Middle Fork National Scenic River.
For further information on the Middle Fork National Wild and Scenic River, you may contact the following:
| | |
| --- | --- |
| Vermilion County Conservation District | 217-442-1691 |