Become a member of the Vermilion County Conservation District
Volunteer Team!Get Involved, Have Fun, and Meet New People!
The Vermilion County Conservation District strives to offer quality programs and opportunities for people to enjoy their county parks.  Many of our programs opportunities would not be available without the dedication and support of volunteers.
Read on to find out how you can make a difference through one of the Conservation District's Volunteer Opportunities:
Staffing the Kennekuk Visitor Center on Saturday and Sunday afternoons
Hosting a building on Sunday afternoons - choose from the Bunker Hill Historic Area or Education Center at Kennekuk, or the Nature Center or Pioneer Cabin at Forest Glen
Volunteering at public events such as Maple Syrup Open House, Pioneer Craft Day, Education Programs, summer camps, and more
Become a Trail Steward and report needed repairs on the trail at Kennekuk, Forest Glen, or Heron County Park
As a volunteer, you will: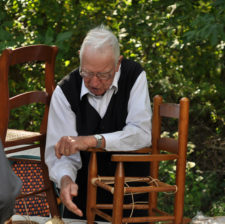 Receive a free subscription to the VCCD Newsletter, The Conservationist
Receive invitations to seasonal dinners and special get-togethers
Make new friends and memories
Gain personal satisfaction knowing you are contributing to your county parks
Receive a 10% discount on select park buildings and shelters *
Receive two nights per year of free camping at Forest Glen Preserve *
* with required minimum number of volunteer hours
You don't have to have any special skill or knowledge to become a volunteer; we provide training and information for each volunteer position.  To become a VCCD Volunteer, please fill out the Volunteer Application or call 217-442-1691 and ask for Lara Danzl for more information on how you can begin as a volunteer today!